dCarbonX is an asset focused geo-energy private company established in 2020 to develop underground assets for clean molecular energy storage and the sequestration of CO2.
Based in London and Dublin, dCarbonX has Snam as its leading corporate shareholder. Snam is Europe's largest natural gas storage and distribution company. Acknowledged as a best-in-class operator in Europe, Snam holds the largest natural gas transportation network (over 41,000km including international assets), has an unmatched gas storage capacity (approximately 20 BCM including international assets) and has major re-gasification operations as Italy's leading LNG operator. Snam is also a leader in hydrogen storage and transportation developments.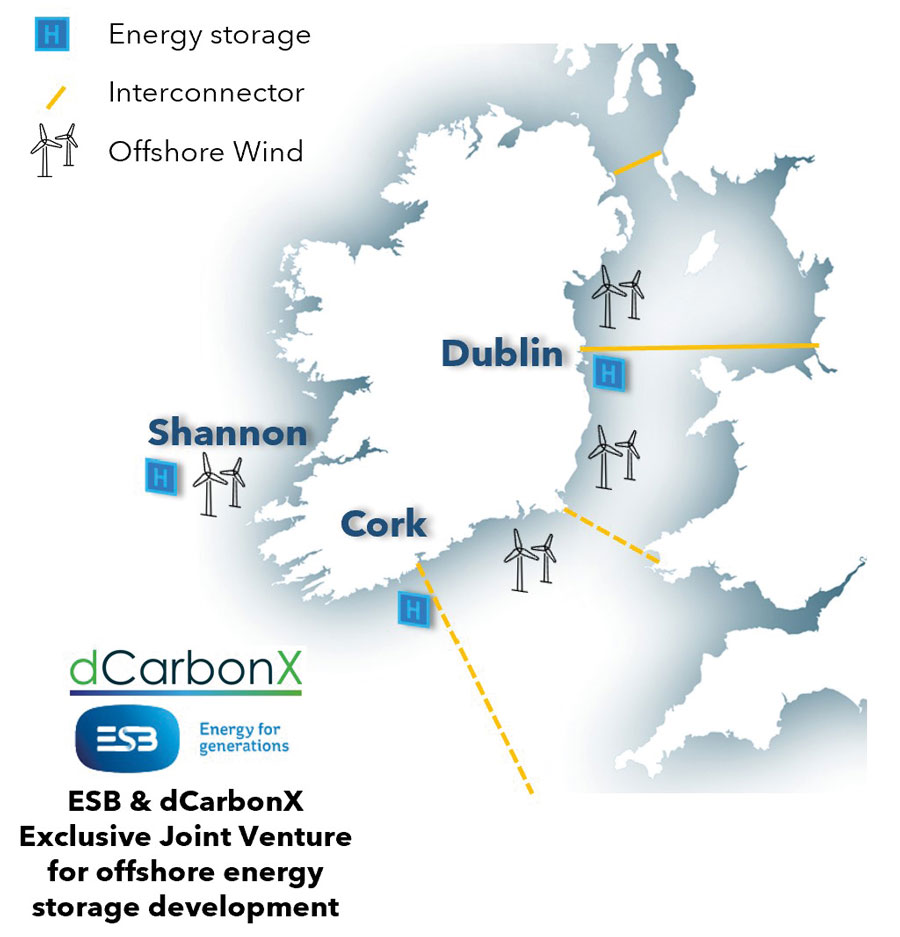 The transition from fossil fuels to renewable sources of energy requires new fit for purpose energy infrastructure and the development and adoption of innovative new technology and solutions. To address the natural lack of consistency and resilience in wholly renewable energy systems, molecular energy storage of natural gas today and hydrogen in the future is required to address intermittent renewable power. On stormy days, natural surges of wind power must be curtailed due to lack of grid capacity, whilst on calm days with little to no wind, a heavy dependence is put on back-up fossil fuel power generation.
Fundamentally, intermittent wind destabilises power grids without appropriate energy management. Due to infrastructure limitations around grid flexibility and existing forms of energy storage (such as pumped hydro and/or short-life battery storage), energy systems struggle to balance the grid. Large-scale molecular storage of natural gas and renewably produced hydrogen provides balancing energy storage capacity to effectively manage and smooth out intermittency.
dCarbonX has two main focus areas:
• Underground energy storage: dCarbonX has an exclusive JV partnership with ESB, Ireland's leading integrated utility, to develop three large-scale offshore underground energy storage facilities adjacent to the country's strategic electrical infrastructure hubs at Dublin, Cork, and Shannon. dCarbonX additionally has technological solutions for underground energy storage at the small to medium scale for managing more local needs.
• Geological sequestration of carbon dioxide: dCarbonX is working with industrial partners including US multi-national Pentair on carbon capture and sequestration opportunities in Ireland and the UK. Pentair's subsidiary Haffmans B.V., a world leader in biogas upgrading and CO2 recovery systems, will utilise its carbon capture technology to focus on the extraction, recovery, and purification of CO2 from Irish and UK assets, while dCarbonX originates and will develop offshore subsurface sequestration sites.
E: info@dcarbonx.com
W: www.dcarbonx.com