As one of Ireland's leading climate solutions companies, Bord na Móna believes that greenhydrogen, a zero-carbon gas, will act as a key vector in our national transition to support the full decarbonisation of our energy system, writes Paul Schütze, Senior Project Development Manager at Bord na Móna.
Ireland's decarbonisation strategy, with its ambitious target of having 80 per cent of electricity coming from
renewable energy sources by 2030, relies primarily on electrifying end uses where possible. However, there are certain challenges that come with a high penetration of renewables on the electricity grid. Green hydrogen can play a key role in combating those challenges.
Dunkelflaute events
In times of low wind speeds and low levels of sunlight, often referred to by the German word "dunkelflaute", Irish demand may exceed renewable electricity supply. Battery system storage solutions can provide short- and medium-term solutions to this and bridge the energy supply gap over short periods of time. For a secure and robust energy system with a high proportion of renewable generation there is a need for energy storage that can span a number of months and support inter-seasonal supply. Fossil fuels such as natural gas and distillate fuel oil are currently used in those type of scenarios. However, large amounts of greenhouse gases are emitted when electricity is produced using fossil fuels. As a sustainable alternative, green hydrogen, a carbon-free gas produced by splitting water into hydrogen and oxygen using renewable electricity, could be used to great effect during those periods of low renewable energy supply.
Grid stability
The intermittency of renewables presents a challenge to the electricity grid in regard to grid stability. There currently is a requirement to have a number of thermal generation plants on the system to maintain frequency and grid stability. Those thermal plants predominantly run on fossil fuels. Replacing this fossil fuel requirement with green hydrogen, as well as adding synchronous condensers (devices that take a small amount of power from the grid to operate a motor and flywheel which stabilise the grid at times of high renewable generation) would decarbonise this element of the grid.
Abundance of renewable energy potential and levels of curtailment
In its Wind Energy Roadmap, the Sustainable Energy Authority Ireland (SEAI) states that Ireland can achieve a deployment of 30GW of offshore wind generation by 2050. To put this figure into perspective, Ireland's forecasted electricity demand for 2030 is estimated at approximately 7GW. In addition, Ireland has a substantial onshore wind resource, which needs to be further developed, as offshore wind is still in its early stages. Onshore wind will not only bridge the gap before offshore projects are in operation but also help to decentralise the renewable generation across the country. Bord na Móna has a track record of delivering a number of onshore wind projects and has demonstrated that onshore wind can be delivered significantly faster than offshore wind projects. The 2023 Climate Action Plan sets out targets of 9GW of onshore wind, 8GW of solar and 7GW of offshore (2GW of which is to be dedicated to green hydrogen production). With Ireland's forecasted electricity demand of 7GW in 2030 in mind, and with electricity interconnection to mainland Europe remaining limited the question is how can the country exploit this excess renewable energy resource? In addition, levels of curtailment (times when our renewable electricity supply exceeds demand) will increase as more generators connect to the grid. This excess electricity, that would otherwise be wasted, could be used to produce green hydrogen.
Energy security
Given the geopolitical situation over the course of the last year, the EU's focus has shifted towards energy security. Being dependent on non-EU countries for fossil fuel supply has emerged as a key weakness for Europe and represents a significant challenge for various European industries. The production of green hydrogen as a form of green fuel will enable Europe to be less dependent on external fossil fuel imports and, ultimately, help support price stability for consumers.
Domestic impact of emerging industry
Green hydrogen production also presents Ireland with an opportunity to become part of the supply chain of this emerging industry. Numerous local jobs will be created and communities will benefit from these developments. An emerging industry also spurs innovation and growth, allowing people to develop new ideas and diversify the local economy.
Bord na Móna's Energy Park Concept
Bord na Móna's landholding of 80,000 hectares allows us to develop a large portfolio of renewable energy projects including onshore and offshore wind, solar, flexible generation, and green hydrogen projects. The Bord na Móna Energy Park concept was developed to harness this strategic advantage, where supply (wind and solar) is co-located with demand. Green hydrogen production also plays a significant role in the energy parks, as the clean renewable gas can be utilised for a variety of applications: to fuel the onsite back-up generation of the customer demand; to decarbonise local cement production or other industries; to fuel the mobility sector; or to produce 'hydrogen value-added products'.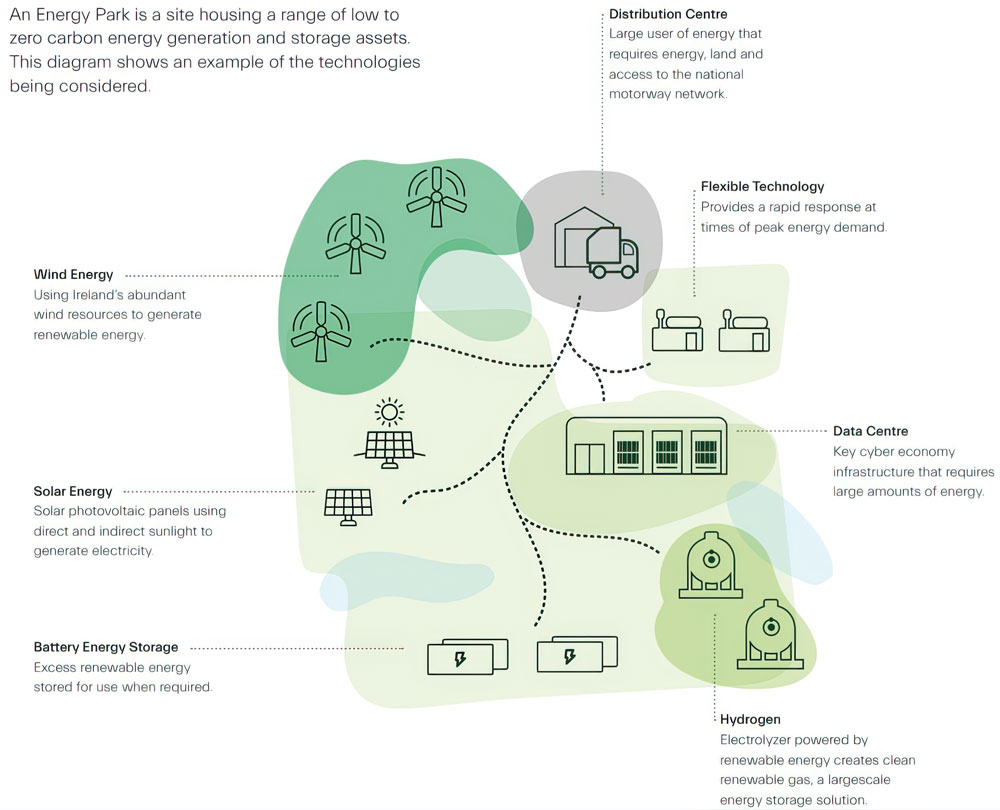 The role of hydrogen value-added products
In order to reach net zero by 2050 we will have to replace as much fossil fuel consumption as possible. Green hydrogen, combined with biogenic carbon dioxide, can be used to produce renewable fuels called e-fuels such as green ammonia and fertiliser, e-methanol or sustainable aviation fuels (SAF). Those e-fuels will, ultimately, help to decarbonise parts of the agricultural and mobility sectors that cannot be electrified.
Bord na Móna's green hydrogen strategy
The challenge that this industry is facing currently is the timescale. In order to achieve the targets set by the EU, large-scale hydrogen production is required as quickly as possible. However, Bord na Móna believes that it is crucial to demonstrate progressive development in the sector and as a result we are following a three-stage approach.
In Phase 1, Bord na Móna will develop a 2MW green hydrogen project at our existing Mount Lucas windfarm in County Offaly. Planning consent for this project is expected at the end of Q1 this year. If the project can be delivered in the timelines currently set out, it will be the first green hydrogen production facility in the Republic of Ireland. This project will enable us to build knowledge and expertise on green hydrogen production and stimulate demand for the renewable gas.
In Phase 2 of our hydrogen strategy, we intend to develop medium-sized green hydrogen projects on our existing landbank. The green gas may be injected into the gas grid to decarbonise thermal generation plants, decarbonise other sectors of industry (such as cement factories local to the hydrogen production), or used for the production of hydrogen value-added products as described above.
Phase 3 of our hydrogen strategy includes large-scale, green hydrogen production both on our existing landbank as well as from offshore wind energy.
Ireland's leading role
We believe Ireland has a major role to play in this emerging industry. Time is of the essence with projects urgently required to stimulate demand allowing project developers like Bord na Móna to upscale their projects even further. With the opportunity to reach energy independence for the country in mind, positive change is on the horizon if we fully embrace renewable energy solutions like green hydrogen as a nation.
For more information visit:
W: www.bordnamona.com