In August 2021, the Department of the Environment, Climate and Communications (DECC) launched a consultation on the introduction of a renewable heat obligation. If introduced, the obligation will require that a proportion of the energy supplied to the Irish heat sector be from renewable sources.
Annually, a total of 38 per cent of Ireland's final energy consumption emanates from heat energy, equating to 55,230 GWh. With oil (42 per cent), gas (41 per cent) and solid fuels such as coal (5 per cent) and peat (4 per cent) still the primary sources of heat generation, emissions from the heat sector totalled 12.6 MtCO2 in 2019.
Principally, heat energy is used across four sub-sectors: residential (46 per cent); industry (35 per cent); services (15 per cent); and agriculture and fisheries (4 per cent). While residential demand is the largest consumer of heat energy, usage is expected to decrease with improved energy efficiency.
Policy context
Currently, Ireland's climate ambitions include:
a Programme for Government 2020 commitment to an average 7 per cent per annum reduction in greenhouse gas emissions (from 2021 to 2030), with a 51 per cent reduction by 2030, and achieving net zero carbon emissions by 2050;
a legally binding national climate objective of transitioning to a climate resilient, biodiversity-rich, environmentally sustainable and climate-neutral economy no later than 2050, as per the Climate Action and Low Carbon Development (Amendment) Act 2021;
a commitment to a 34.1 per cent share of renewable energy by 2030 via Ireland's National Energy and Climate Plan 2021-2030; and
a reduction in European greenhouse gas (GHG emissions) by 55 per cent by 2030 through the EU's Fit for 55 package.
At the same time, Article 23 of the Renewable Energy Directive (REDII) provides that EU member states must seek to "to increase the share of renewable energy in that (heating and cooling) sector by an indicative 1.3 percentage points as an annual average calculated for the periods 2021 to 2025 and 2026 to 2030, starting from the share of renewable energy in the heating and cooling sector in 2020, expressed in terms of national share of final energy consumption. That increase shall be limited to an indicative 1.1 percentage points for member states where waste heat and cold is not used".
In July 2021, the European Commission proposed revising the Renewable Energy Directive (REDII) to align with the delivery of the European Green Deal's increased climate ambition. Overall, this revision will increase the EU-wide target for the renewable energy sources in the energy from 32 per cent to 40 per cent.
Amendments to Article 23 of REDII will ensure that the existing indicative 1.1 per cent annual increase in heating and cooling becomes a binding baseline for member states, with specific indicative national top-ups.
Climate Action Plan 2019
In this context, contained within an updated annex to the Climate Action Plan 2019, Action 57b timetables a decision to be made on the introduction of a renewable heat obligation by the end of 2021.
As such, the DECC consultation on a renewable heat obligation is intended to inform the decision on whether and how an obligation is implemented "in the coming years".
Though the structure of such an obligation has yet to be formally determined, all fuel suppliers, ranging from gas suppliers to local coal suppliers, would be subject to it. Likewise, as part of the consultation, any potential unintended consequences of a Renewable Heat Obligation on lower-income households will be assessed.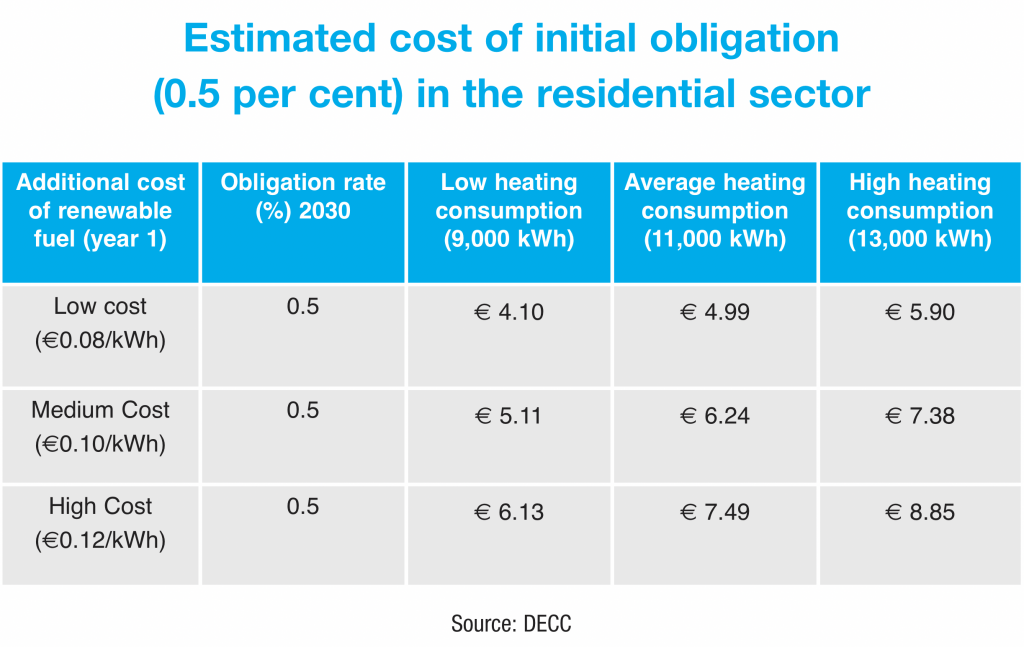 Existing renewable heat measures
Policy measures already implemented in support of the decarbonisation of the heat sector include:
an update to building regulations to require that a share of the energy demand in new buildings originates from renewable sources; and
the provision of incentives to support domestic heat users in upgrading their energy efficiency.
Speaking at Energy Ireland 2021 on 15 September, Minister for the Environment, Climate and Communications, Eamon Ryan TD stated: "In terms of heating, we will continue the rollout of heat pumps to replace fossil fuel heating systems, but we will also add an expanded role for district heating in the forthcoming Climate Action Plan.
"SEAI is carrying out a detailed and comprehensive assessment of the decarbonisation of the heating sector in Ireland. This will be published over the coming months. As part of this study, it will indicate when we need to move from each of our fossil fuels for heat. This will inform future phasing out of fossil fuels and related appliances."
Rationale
However, a statement from the Department concedes that while "some progress is being made" in increasing renewable heat in Ireland, "more will need to be done". This is an understatement given the failure to meet 12 per cent target for renewable heat (RES-H) by 2020.
Indeed, only 6.3 per cent of Ireland's heat sector demand is delivered by renewable energy sources. As well as being the lowest proportion of any EU member state, this is also significantly below the EU average renewables share of 22.1 per cent in 2019.
Despite the aforementioned policy measures and the Climate Action Plan's ambition to install 600,000 heat pumps in Irish homes by 2030, not enough progress has been made on increasing renewable heat in Ireland. At the same time, a renewable source of liquid and gaseous fuels for heat will be required to decarbonise high temperature heat where electricity may not prove to be a practical alternative.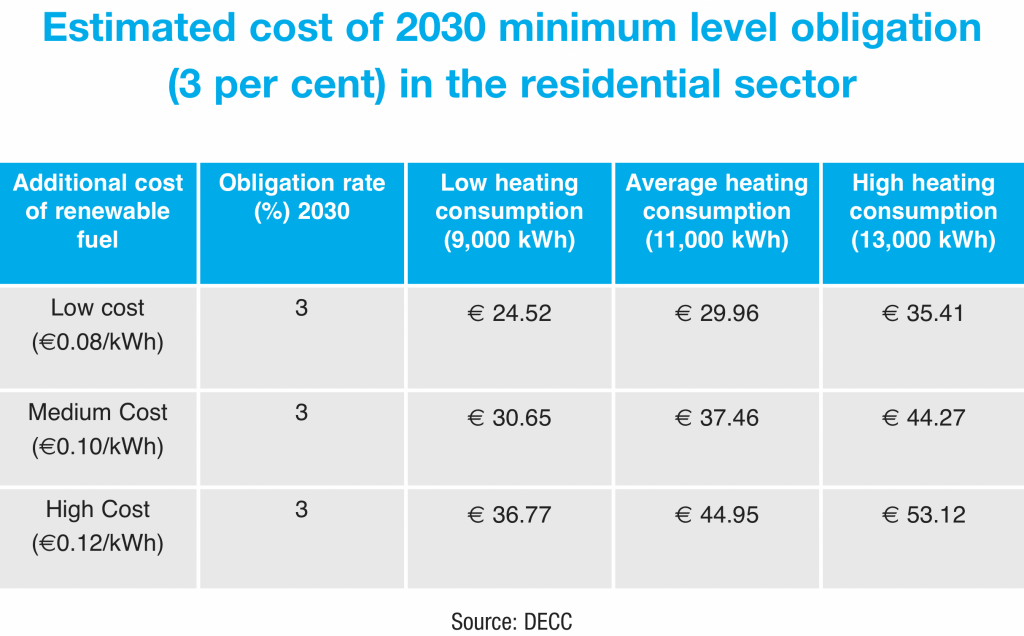 The overall objective of a renewable heat obligation, therefore, is to reduce GHG emissions in the heat sector through increased use of renewable energy, contributing to the PfG's target of a 51 per cent reduction in emissions by 2030 and net zero emissions by 2050. Simultaneously, an additional benefit flagged by the Department is diversification of the energy supply and therefore increased security of supply.
It is intended that if implemented, a renewable heat obligation will incentivise the use of renewable heat while also spreading across all non-renewable energy sources. As such, the cost impact would be spread across all consumers of non-renewables, preventing a financial burden falling on a single sub-sector.
Proposed structure
A renewable heat obligation is expected to mirror the Biofuels Obligation Scheme which operates in the transport sector, obligating fuel suppliers to ensure that a specific proportion of the fuel they supply for heat is renewable. It will apply to all suppliers of all fuels in the heat sector who supply more than 400 GWh of energy (as per the updated Energy Efficiency Obligation Scheme).
While a renewable heat obligation would be a supply-side measure to reduce the carbon intensity of energy supplied, suppliers are already obligated by a demand-side measure, the Energy Efficiency Obligation Scheme, to reduce consumption.
A renewable heat obligation will not be applied to electricity supplied for heat, as it already includes significant levels of renewable energy.
The annual heat obligation rate will establish the proportion of non-renewable energy supplied in the heat sector by each energy supplier (heat obligated party) that must emanate from renewable sources. Trading will be possible between suppliers providing an insufficient proportion of renewable energy and those suppliers with a surplus to the proportion required.
This heat obligation rate is anticipated to "introduced as a low level and increased over the years ahead" in order for a supply of renewable energy to be established. For instance, in one scenario, the initial rate could be set at 0.5 per cent or the equivalent of around 260 GWh of renewable energy in 2019. By the end of the decade, the rate would be increased to at least 3 per cent, equating to a minimum of 1.6 TWh of renewable heat by 2030.
Sustainability
The renewable heat obligation will adopt the sustainability criteria outlined by the Renewable Energy Directive and apply it to the renewable energy used. Potentially, this could incorporate biogas/biomethane, bioliquid, biomass and green hydrogen. The Department has outlined that while imported sustainable fuels will be accepted, "indigenously produced renewable energy will have less challenges meeting the sustainability criteria due to lower emissions associated with transportation".
Cost
An exact cost of meeting the renewable heat obligation has yet to be determined with any certainty.
In producing its estimates, the Department assumes a typical residential heat consumption of between 11,000 kWh and 13,000 kWh and an additional cost of renewable fuel ranging from €0.03/kWh to €0.12/kWh.
"Reduce greenhouse gas emissions in the heat sector though increased use of sustainable renewable energy thus contributing to the Programme for Government's target of a 51 per cent reduction in emissions by 2030 and net zero emissions by 2050."

— The overall objective of a renewable heat obligation, Department of the Environment, Climate and Communications
Therefore an 0.5 per cent heat obligation rate would add between €4 and €9 to an annual bill in the first year, increasing to between €24 and €54 by 2030 as per an obligation of 3 per cent. For industrial and commercial consumers, variable energy usage between SMEs and large industrial users means the additional cost will initially range from <0.75 per cent to <1.5 per cent before increasing to between <3 per cent and 6 per cent in 2030.
It is anticipated that suppliers will source renewable fuels with the lowest associated cost to meet the obligations and spread additional cost across consumers equivalent to consumption.
Enforcement
Enforcement of a renewable heat obligation will be the responsibility of "an appropriate government body/agency". A decision on this administrator will be made following the conclusion of the public consultation. Working alongside the Department, the administrator will "develop the operating terms and conditions and to ensure the obligation complies with all relevant legal requirements such as State Aid".
At the end of each obligation period, the administrator will ensure that suppliers have delivered enough renewable fuel to meet the renewable heat obligation. It is suggested that during the initial phase, the compliance of each supplier will be assessed over a multiyear period, while latterly it will be assessed on an annual basis.