In support of Ireland's ambition of achieving net zero carbon emissions by 2050, Bord na Móna has redefined its role, transforming into a leading climate solutions company. Chief Financial Officer (CFO) and Chief Operating Officer (COO) JP McGrath discusses the development and delivery of his company's climate solutions.
Employing approximately 1,500 people and managing a land holding totalling over 80,000 hectares, Bord na Móna has moved away from its traditional role as a peat harvesting business, instead implementing a climate-focused business plan. It aims to cultivate conditions for the storage of carbon and protection of biodiversity, as well as contribute to Ireland's sustainable energy security.
Historically, peat extraction contributed to 90 per cent of Bord na Móna's business and the bulk of its jobs. However, in January 2021, the company announced the permanent cessation of all peat harvesting on its lands and the migration of its employees into new roles.
Having embarked on a journey of developing and implementing its Brown to Green transformation strategy in 2018, Bord na Móna is now entirely focused on renewable energy generation, recycling and developing additional low carbon enterprises.
"It was an imperative that was driven by survival and making the business relevant into the future," McGrath begins, adding: "Bord na Móna is now better placed than any business in the country in terms of being able to execute this strategy because of our land holding and established capability in this space.
"We are very confident that we have delivered a firm pathway into the future through our 10-year plan which incorporates a €1.6 billion investment in renewables."
Climate neutrality
Today, Bord na Móna's vision is about facilitating Ireland's drive to climate neutrality no later than 2050. This vision contains three components: firstly, helping to decarbonise the energy supply; secondly, driving the recycling agenda; and thirdly, rehabilitating peatlands.
Consequently, its mission is to take a leadership position in developing and delivering clean energy, carbon storage and resource recovery solutions for a greener future.
This mission comprises four key pillars:
providing Ireland with sustainable energy from renewable sources at scale;
rehabilitating Irish peatlands;
delivering exemplar waste and resource recovery solutions; and
helping Ireland reimagine how it engages with climate action.
Renewable energy
Climate Action Plan 2019 committed Ireland to the generation of 70 per cent of electricity from renewable sources by 2030. In support of this ambition, Bord na Móna has pledged to expand Ireland's renewable energy infrastructure. Its pipeline of renewable energy projects spans a broad spectrum including onshore wind, onshore solar, battery technology, biogas and is entering the embryonic space of green hydrogen production.
This pipeline, McGrath suggests, means that the company is on track to supply renewable energy to one-third of Irish homes by 2030, particularly via the installation of wind turbines on cutaway bogs.
"We want to be a source of high-quality jobs and a business that the people of the Midlands, and the wider country, can be proud of."
"We are also attempting to understand whether we can and should play a role in the offshore wind space," he adds. "We have the capability and experience in terms of planning and developing major projects, alongside a thorough understanding of the planning regime in Ireland and good intragovernmental relationships. As such, through potential partnerships, Bord na Móna may be able to play a significant role in the offshore space."
Bord na Móna is working alongside organisations both nationally and internationally to embrace and implement best practices in onshore wind, solar and hydrogen development. "We are an island nation, but we cannot operate in isolation. For instance, we rely on input from other companies and agencies to understand how green hydrogen will evolve and how we can move it forward in an Irish context."
Recycling
Helping to guide Ireland towards a new circular economy, Bord na Móna's waste innovation is aimed at contributing to a reduction in the national carbon footprint and supporting waste policy. "We already have plastics and tyre recycling activities, and we will be broadening those over the next decade," McGrath says.
Moving beyond waste management, Bord na Móna is focused on helping Ireland transition to a circular economy. This entails rethinking waste solutions for climate action, repurposing waste into commodities, reducing what is exported overseas, and minimising what is sent to landfill.
Bord na Móna Recycling is the company's waste management business and collects over 450,000 tonnes of waste from a customer base exceeding 135,500 people and organisations.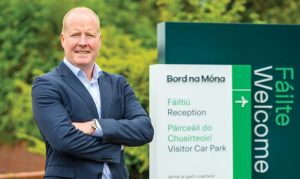 For example, already, Bord na Móna recycles over four million tyres annually at its rubber processing facility in County Louth. Likewise, each year it transforms over 25,000 tonnes of food and organic waste into marketable compost while, at the same time, CH4 from its landfill is captured and used to generate enough electricity to power 8,500 homes.
However, as a country, McGrath maintains, Ireland is relatively far behind in the innovative waste management space. "We are looking at very significant investments in that area, particularly in the next two or three years. If government and EU policy supports it, these can be attractive investments for us and Bord na Móna can help to move the needle on that agenda."
As such, the company has a pipeline of investment valued at up to €100 million over the next 10 years, spanning mechanical biological treatment plants, biogas from waste, and anaerobic digestion.
Restoration and rehabilitation
When extracting peat, the first step of the process is draining water from the peatlands before cutting. That process is a significant contributor to carbon into the environment. Once the peat is harvested and subsequently burnt, an additional layer of carbon emissions is introduced.
However, while some peatlands were drained, they were never harvested. As such, Bord na Móna is seeking to restore as much raised bog to its natural state as possible. This means rewetting bogs through the blocking of drains via dams made of either peat or plastic, enabling them to return to peat-forming conditions. To date, over 7,200 hectares of bog have been restored to peat-forming conditions with an aim of restoring a total of 8,125 hectares.
Meanwhile, cutaway bogs which cannot be restored are instead being rehabilitated into new habitats, encouraging indigenous species of plant to regrow. Already, almost 19,800 hectares of bog have been rehabilitated with an ambition in the company's current Peatland Climate Action Scheme to rehabilitate over 30,000 hectares.
"We have a vision for our peatlands," McGrath asserts. "Consider then a rehabilitated and rewetted area of peatland existing side-by-side with a renewable energy windfarm, which requires only a 5 per cent footprint on a bog, as well as the potential for public amenities such as walking trails, cycle paths, parks and even visitor centres to encourage people to visit these beautiful natural environments. That is the type of ambition that we are working towards."
New business
A significant component of Bord na Móna's mission is to contribute to local communities in the Midlands and the CFO and COO anticipates that the development of commercial activities will contribute close to €10 million per annum.
"Our model ticks all of the boxes for the Midlands. It is a virtuous circle which benefits the environment while the commercial value of the electricity generated by the windfarms will fund continued rehabilitation of peatlands into perpetuity. It is a very attractive proposition."
At the same time, Bord na Móna's new business strategy is dominated by support for new jobs and enterprises in the Midlands, in collaboration with Just Transition Commissioner Kieran Mulvey. "We are acting as an incubator to support new businesses, particularly in the Midlands, through the provisions of facilities and funding," McGrath explains. "Bord na Móna is making available facilities, including workshops, warehouses and office locations while simultaneously, matching some of the funding from government agencies, helping entrepreneurs with ideas that we are prepared to invest in."
Challenges
Considering the most significant obstacle currently facing Bord na Móna, the CFO and COO identifies the industry-wide challenge of planning for renewable development. "The planning regime in Ireland can be challenging, both in terms of the length of time it takes to get planning permission and the layers of challenges that can emerge.
"Ultimately, Bord na Móna's profitability is recycled back into employment, the environment and government via dividends and tax. If we are successful, then it is a success story for Ireland Inc as well."
"That creates a significant difficulty for the delivery of national climate targets. We must examine ways to address that challenge and create a more pragmatic planning environment if we want to achieve these targets," he determines.
Vision
Bord na Móna's overarching ambition is to be a leading and commercially successful climate solutions company. "We want to be a source of high-quality job and a business that the people of the Midlands, and the wider country, can be proud of. Bord na Móna can be an international exemplar of a business that completely transforms itself and assumes a leadership role in delivering climate solutions. If we can deliver that, which we are confident that we can, it will be a great achievement," McGrath insists.
Emerging from the 2020/2021 financial year with a return to profitability for the first time in about six years, Bord na Móna anticipates a strong performance in 2021/2022. "We have the fundamental building blocks to be very successful and we want to move at a pace that delivers on our agenda," he outlines.
"The story of Bord na Móna is a very positive one. From a business perspective, we are playing to megatrends such as the green agenda, which is potentially very commercially successful. Ultimately, Bord na Móna's profitability is recycled back into employment, the environment and government via dividends and tax. If we are successful, then it is a success story for Ireland Inc as well.
"As a commercial organisation, Bord na Móna is quite niche. We are not as big an organisation as ESB. As such, we are relatively agile; our decision-making is rapid. Under the right circumstances, including a pragmatic planning environment, we can contribute to the rapid delivery of the decarbonisation agenda.
"It's a simple enough story," McGrath remarks, concluding: "We are very clear on where we are going and so now the focus is on execution and scaling up."